Company
You are here:
Home
» Company

We're Nagasoft.
Nanjing Nagasoft Corporation which integrates software development, sales, system integration with the the streaming media technology as its core is an original as well as Double-soft certified enterprise (No.R-2009-0062). Our company, one of the member of Jiangsu Soft Association is an Industry-Academy-Research cooperative organization for many colleges and it has a lot of partners and distribution network in China. All these make it gain the high awareness in industry.
Since the foundation in 2006, the rate of its market share has continually and stably risen.With the original streaming media software products as its core competitiveness, Nagasoft has the long focus on the market of streaming media. Additionally, more kinds of products and solutions will be applied to different projects at home and abroad in pace with the research, development and sales. It has formed an impeccable product line from front-end capture to back-end watching with the pure soft products extending to hardware devices along with overall solutions of software and hardware.
As the professional streaming media software supplier, our company has a sound product service system and one-stop solutions that help it receive a highly comment from a lot of customers not only in the internet industry, education industry, enterprises and institutions but also in the professional field such as broadcasting and TV system and video editing. It has a huge and loyal customers, among which there are a lot of well-known enterprises and institutions such as Chinese Academy of Science, China News Service,China Telecom.
Gathering rivers into the sea and adding stones to make mountains. By virtue of its powerful technological development team and service system, Nagasoft, aiming at advancing streaming media technology of China along with serving the public better, endeavors to become the first-class streaming media technology supplier in the world!
HISTORY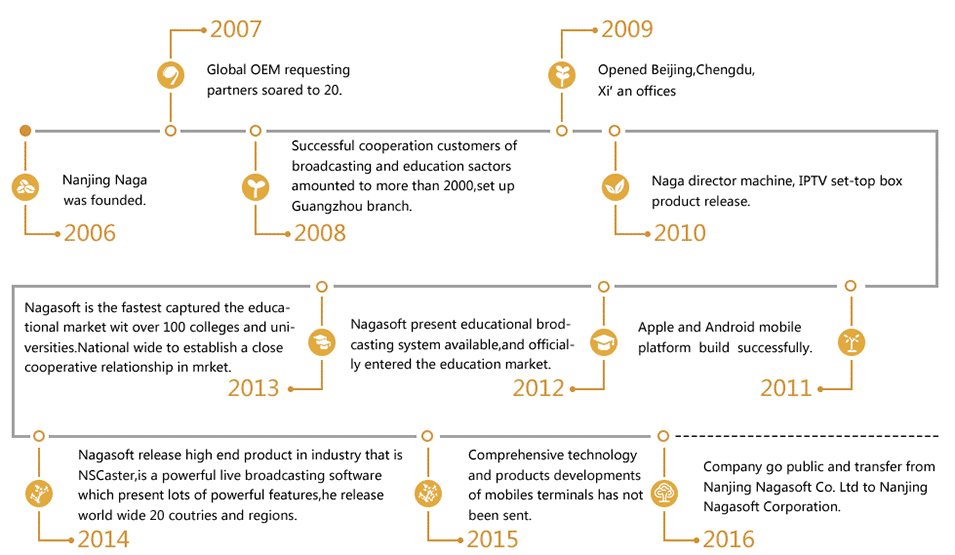 Products on sale
VJDirector2– VJDirector2 (Live production software) is the Windows-based software workstation for multimedia editing, recording and broadcasting. It supports HD. Features include special effect switching unit, CG editor, VGA capture, camera capture, video capture, webcam capture , motion capture, virtual cam, subtitler, chromakey, video recorders, network broadcasting system, simple drive broadcasting system and linear editing system.
VJMS– VJMS is Naga's streaming media system.It consists of VJLive(Naga's P2P Live broadcasting system), VJVoD(Naga's P2P video on demand system), VJMIS(Naga's media resources management system), VJCMS(Naga's contents management system). It is played by VJPlayer series(Naga's multiterminal player series ) .
Capture Cards–NAGA 6 channels SD capture card, NAGA 4 channels SDI capture card, NAGA VGA Capture card, NAGA 4 channels HDMI capture card.
About Us
We offers you the best products and service.
–The largest streaming media system service provider in China.
Perfect software marketing service system
–National Channel dealer network
–200 + radio success stories
–400 + educational industry success stories
–4000 + client application foundation
–120 + partners
–Customers cover over 50 countries around the world
Professional Streaming media research and development team
–Guangzhou Research And Development Center
–Nanjing Marketing Center
–Software: 3-years free upgrade; 3-years free remote technical support ; 7 * 24 customer service.