Conference
You are here:
Home
» Conference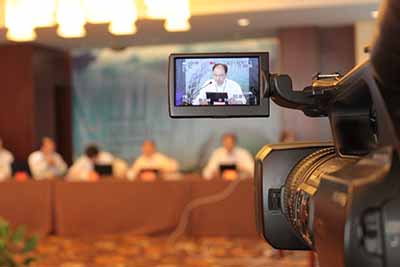 NSCaster can be applied to any kinds of conferences such as organizational meetings, local congregations, press conferences, and governmental summits.
Expand the range of audience participation
If you are interested in the congregation or wish to attend the meeting, NSCaster is the most easy way to achieve it wherever you are. You may watch the event in real-time through multiple devices like your PC, laptop, mobile device, etc. Remote interview, candidates interact, live report can be all achieved by remote connections of NSCaster thus enhance quality of the conferences.And you can stream to multiple branch locations simultaneously.
Safe broadcasting
The 'delay' feature of NSCaster is used to ensure your conference broadcast safety. When an emergency situation occurs, you can switch the video and audio into the predefined safe channel to avoid broadcasting accident, which guarantees official conferences to broadcast without interrupting.