Live+ Interconnection System
You are here:
Home
» Live+ Interconnection System
Introduction
Based on NDDIP (Nagasoft Director Device Interconnection Protocol), Nagasoft creates a new Live+ interconnection system, throughout the entire equipment supply chain and service chain in industry, in order to achieve interconnection and interworking among a variety of core live production devices and front-end capture equipments (such as: mobile phone, encoder, UAV etc.), and forming the live broadcasting solution relying on network system.
Each Live production device added into the live+ interconnection system, owns the only director code and corresponding QR code. No matter anywhere it locates, front-end equipments can be easily linked into live production devices by entering the director code or scanning the director QR code, in order to optimize the entire directing process.
Live+ interconnection system owns an open system framework and Nagasoft provides open SDK for third party vendors joining the Live+ system easily. Currently, iOS, Android, Windows SDK are available.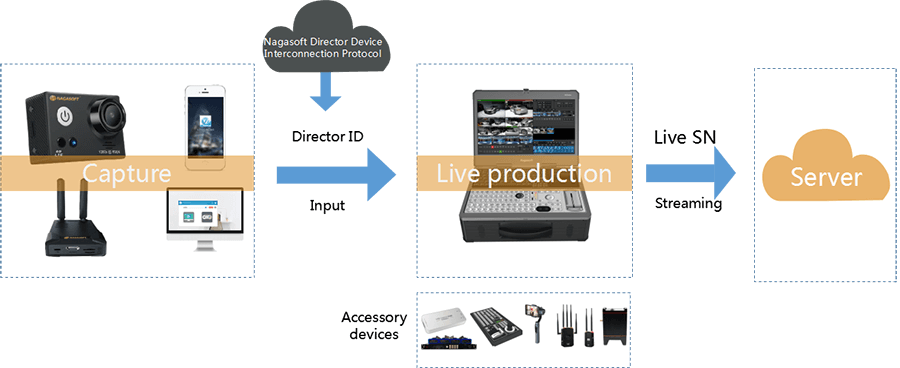 Capture
VJMobileCast

VJMobileCast is a mobile phone streaming tool developed for professional users with video capture feature. It can easily make the phone into a live webcam and access the video data to live production device by 3G/4G/WIFI and other networks.

4G Encoder

4G Encoder is a professional audio and video coding device. Professional cameras can transmit high definition video to the sever by 4G encoder and customers can watch the HD video directly from the computer or mobile phone.

4G sports camera

4G sports camera are widely used in live sports such as riding, climbing, skydiving, diving, etc.It is small and powerful in video acquisition and solve the network issue for live in extreme scenes.

Capture cards/boxes

Nagasoft provide varieties of video capture cards and boxes for video signal capturing. The captured signal can be transmit to our VJDirector or NSCaster system for live production events.

VScreen

Vscreen micro screen software is for PC desktop live broadcast and video recording. It is suitable for making various screen videos which the audio and video content from the software can be used for Nagasoft equipments, so that it become one of the useful tools in live+ system.
Live Production
NSCaster

NSCaster is a powerful live broadcasting software and device which presents lots of powerful features, including Remote camera, 3D trackless virtual scene, real time GPU Chromakey, CG subtitle and remote CG publishing, audio mixer, Multiview, PTZ camera control, remote connection etc. It is the core device in Live+ system to interconnect with front-side capture device and to customized or public servers.See more features

VJDirector2

VJDirector2 (Live production software) is a Windows-based software workstation for multimedia editing, recording and broadcasting. It supports HD.See more features
Server
VJMS3

VJMS3 is Naga's product package of streaming media system, mainly consists of VJLive (Naga's P2P Live broadcasting system) and VJVoD (Naga's P2P video on demand system). It is easily to turn a normal server into a streaming media server by this system. All live+ devices can push streaming to the customization sever made by VJMS3 or public live video platforms like Facebook, Youtube.See more features