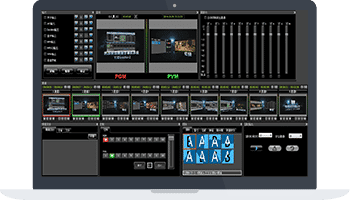 VJDirector(Live Production Software)
VJDirector is a Windows-based software workstation for multimedia editing, recording and broadcasting. It supports HD.
ND8S-04S

ND8S-04H

NDCH-04S

NDCH-04H

Laptop Capture Box

Laptop Capture Sticker
VJDirector Introduction
VJDirector (Live production software) is a Windows-based software workstation for multimedia editing, recording and broadcasting. It supports HD. Features include 3D special effect switching unit, CG editor, VGA capture, camera capture, video capture, webcam capture , motion capture, virtual cam, subtitler, chromakey, video recorders, network broadcasting system, simple drive broadcasting system and linear editing system.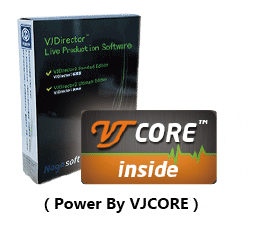 VJCORE Introduction
VJCore (An Innovative Directing Software Engine) is the kernel of directing software which is mostly used in all sorts of directing and recording equipments to provide customers a low-cost software and hardware integration solution.
VJCore is a high professional directing engine.It intelligently implement 8 major funtions of directing:switcher , subtitler , audio mixer , hard drive broadcasting, virtual studio , recorder , remote desktop capture and information TV production.It gives you a efficient and professional live streaming experience and is best for the video recording and post-production of live show, TV program and webcasting.
VJDirector Introduction Video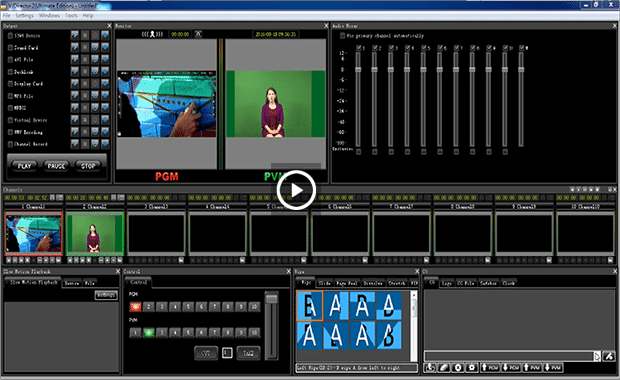 Features
Live Streaming

Giving a concert ? Holding an event ? Wanna stream it live ?

With VJDirector , you can turn yourself into a live streaming expert in minutes !

• High quality image• Smooth stream-pushing
• Easy directing• Lossless compression
• Low latency• Rich functionalites

Input/Output

VJDirector supports rich kinds of input/output formats all for your convenience.It supports many popular files such as WMV/MPEG2/MPEG4/AVI and internet data stream like MMS/RTMP/RTSP.Also,it supports various hardware interfaces such as AV/HDMI/SDI/VGA etc.

Input: Up to 10 input channels
Perfect desktop capture

Output: WMV9/H.264/FLV/MP4/AVI.. output
Graphics card ouput
Virtual device output

Switching

Instead of traditional huge and expensive video switcher , VJDirector can smoothly switch between any two video channels with a simple click .

Plus, we have plenty of 2D/3D switching effects to spice things up for you .

CG & Subtitle & Logo

Special CG editor to publish text, picuture and subtitles in no time

Support both auto and manual subtitle publishing

Support up to 4 normal/animated/transparent logos

Enormous special font effects for your choice

Real-time 3D Switching Effect Editor

In VJDirector, not only can you use the enormous 3D switching effects we already provide , you can even create your own 3D effects with this professional but easy-to-grasp function to turn your production into an engaging masterpiece.

Switch between any input channels

Rich 2D/3D switching effects porvided in advance

Customized , extended and upgraded effects available

Remote Connection

Never used remote connection in your video before ? You 're out ! Now , VJDirector will give you a fun and easy way to bring it into your show . With remote connection , you can add visual resources from all over the world into your video simply via skype . Any time , anywhere , they can be part of your show !

Remote video & audio interaction via skype

Support various terminal apparatus plugged in

Practical remote operator function

Remote CG Editor

VJDirector has very powerful CG editing and publishing function.You can create your CG files on the computer installed with VJDirector or on another computer anywhere else . Since we have the coolest invetion of the centry – internet , why not take full advantage of it ?

Support both manually and automatically CG publishing

Support remote CG editing and publishing

CG files can be both manually inputted or loaded

Various CG fonts and special effects available

Multichannel Recording

VJDirector can support up to 10 video channels .You can choose one, switch between several or mix some of them into one channel to broadcast .Different version of VJDirector support different number of channels.

Perfect switching and mixing of video channels

4, 6 or 10 channels available on demand
VJDirector Control Panel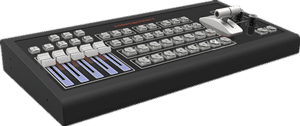 NDCP-A
8 PGM and PVW keys
Including switching T-Bar,CUT and AUTO switching keys.
Including recording/streaming/output control keys.
Including LOGO/Subtitle/Clock control keys.
Including transition effect and transition speed control knob
Use USB or COM connection
Technical Specifications
Features
Mini VJDirector2
Streaming Edition
VJDirector2
Standard Edition
VJDirector2
Ultimate Edition
VJDirector2
Trail Edition

Max Input Channels

4
6
10
3
Acceleration engine
Power by VJCore
Power by VJCore
Power by VJCore
Power by VJCore
Chromakey
MMS Input
RTMP Input
RTSP Input
Remote connection
Under construction
Multi-channel recording
Installation package comes with the demo video
Slow-motion playback
Additional purchase
Installation package comes with the demo video
MPEG2 Output
Effect editior
Effect package
5 sets
10 sets
unlimited
3 sets
CIF(640*480)
SD
HD 720p
HD 1080I
HD 1080P
HDV
Sound Card Output
AVI Output
Video Output
Virtual Device Output
WMV Encoding
1394 Output
Decklink Output
MPEG4 Output
VJVGA Capture
VJCGEditor
Automation tools(auto play,auto switching,automatic subtitles)
Logo
1
2
4
1
Subtitle
CG Flie
SafeBox
Hotkey
Parallel Port TALLY
External keyboard support
COM Interface
WebService Interface
License
Online register(Default 2 times)
Online register(Default 2 times)
Online register(Default 2 times)
Requirement
VJDirector2 Ultimate Edition
VJDirector2 Standard Edition
VJDirector2 Streaming Edition
Processor
Intel Core i7 4790
Intel Core i5 4790
Intel Core i5 4790
Motherboard
MSI B85-G41 PC MATE
Ram
DDR3 8GB
DDR3 4GB
DDR3 4GB
Hard Disk
1TB
Graphic Card
NVIDIA GeForce GTX 960 1GB
NVIDIA GeForce GTX 960 1GB
IN Build Graphic with motherboard.
Operating System
(OS)
win7,win8,win10 32bits/64bits