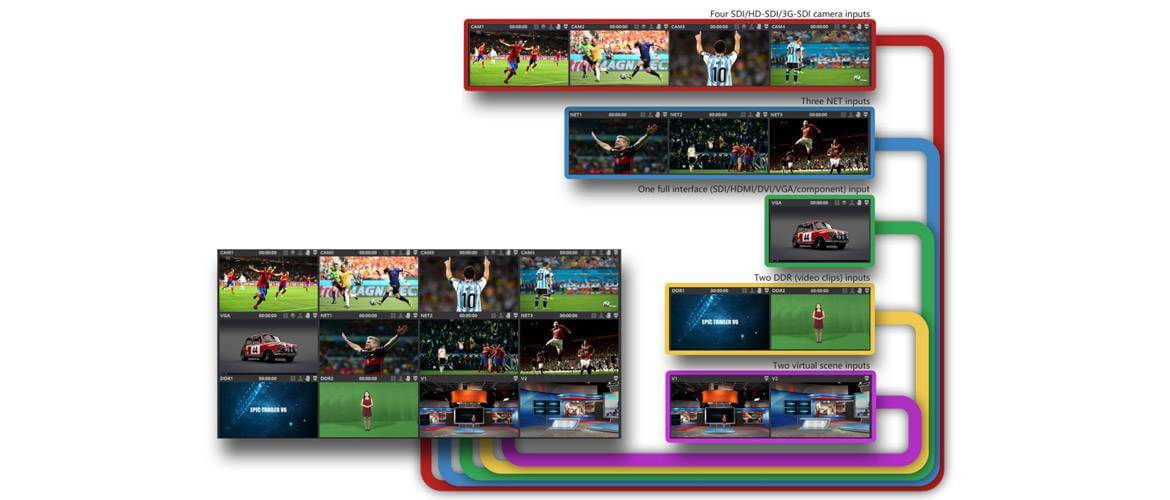 12 Input Channels
NSCaster has 12 input channels, including four camera inputs, one VGA input, one NET input, two DDR inputs, and four virtual scene inputs.
Camera input channels can be used to connect cameras by SDI, HDMI, composite, component and s-video etc.
VGA input channel can be used to connect computer screen by VGA, DVI and HDMI.
Network input channel can be used to connect computer desktop, Android devices, iOS devices, IP camera through the network; it also can connect to network streaming sources, it support RTMP/RTSP/MMS/VJVGA/VJTeacher/HTTP TS/UDP TS protocol.
DDR channels are used to play media files such as audio, video and picture files. It supports most popular media file formats and play with single file or playlist.
Four virtual scene input channels are used for build 3D trackless virtual scene.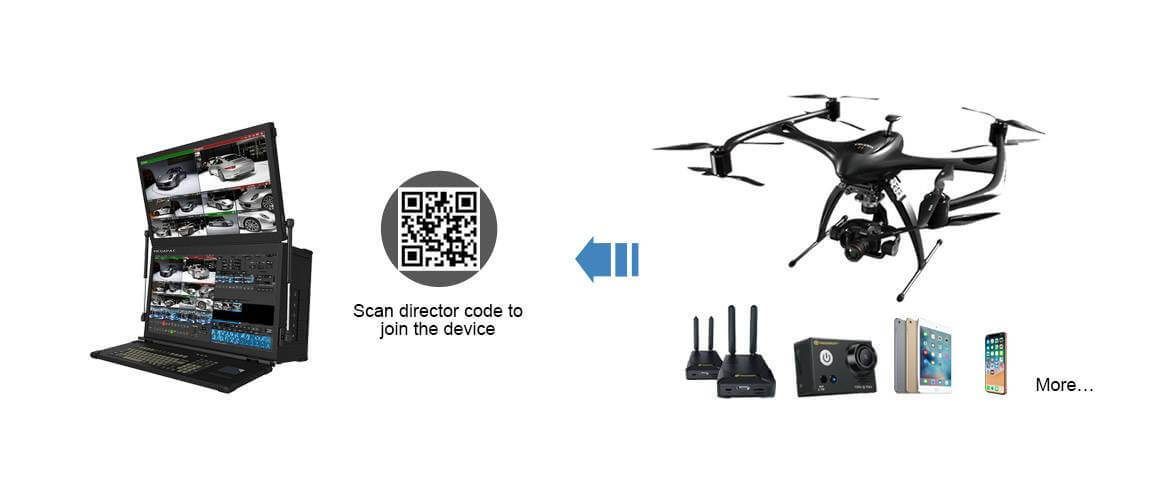 Nagasoft Live+ Interconnection System
Based on NDDIP (Nagasoft Director Device Interconnection Protocol), Nagasoft creates a new Live+ interconnection system, throughout the entire equipment supply chain and service chain in industry, in order to achieve interconnection and interworking among a variety of core live production devices and front-end capture equipment (such as: mobile phone, encoder, UAV etc.), and forming the live broadcasting solution relying on network system.
Each Live production device added into the live+ interconnection system has unique director code and corresponding QR code. No matter where it locates, front-end equipment can be easily linked into live production devices by entering the director code or scanning the director QR code to optimize the entire directing process.
Live+ interconnection system has an open system framework and Nagasoft provides open SDK for third party vendors to join the Live+ system easily. Currently its available on iOS, Android, Windows SDK.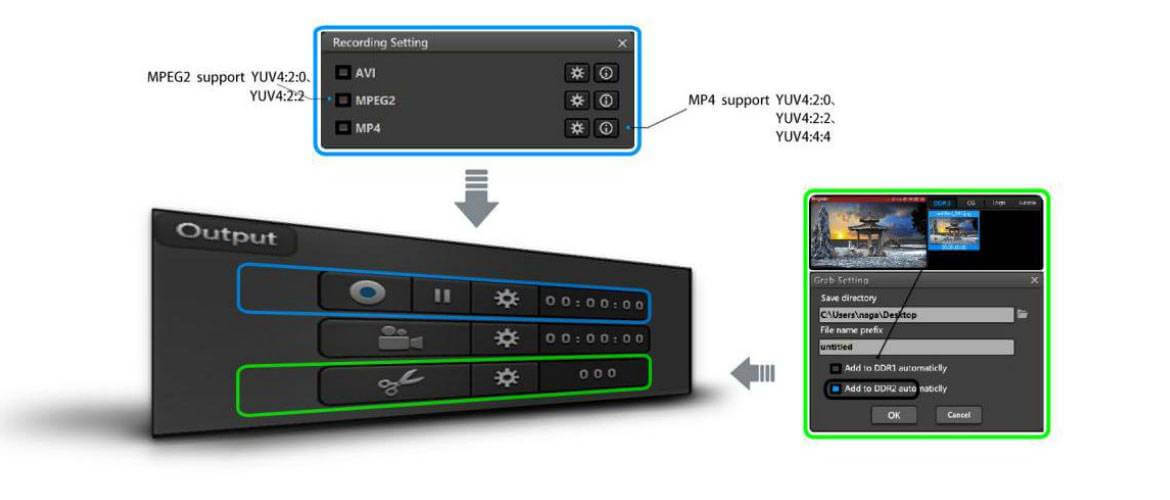 Reliable Recording
NSCaster supports recording PGM channel into AVI, MPEG2-PS, MPEG2-TS and MP4 format. MPEG2 format supports YUV4:2:0 and YUV4:2:2 and MP4 format support YUV4:2:0, YUV4:2:2 and YUV4:4:4.
NSCaster support channels recording into MP4 and FLV format with H.264/AAC codec.
NSCaster can take a screenshot on PGM channel, and add to DDR playlist automatically.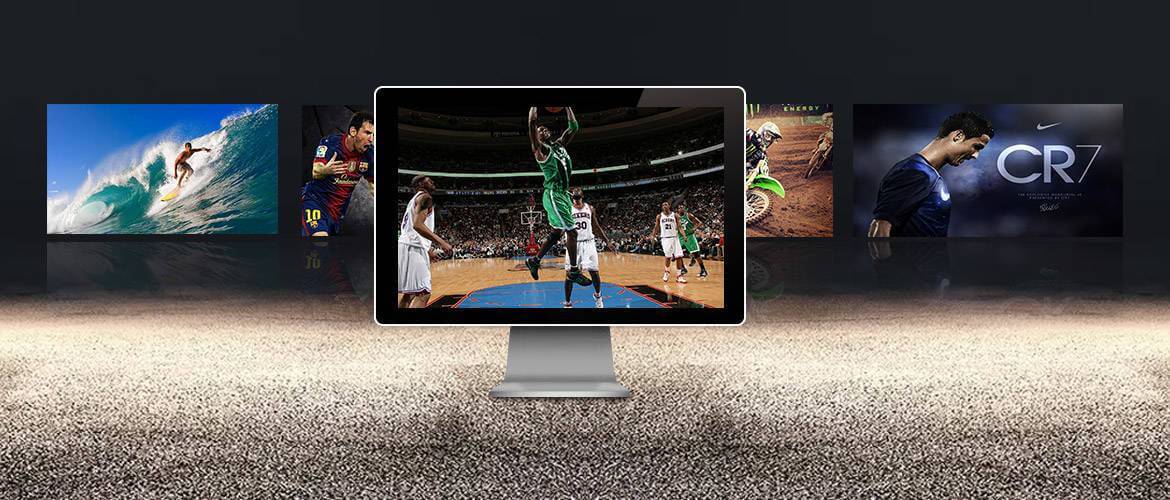 Professional Transition Effects
NSCaster supports multiple cameras switching with transition effects. It includes eight transitions types: wipe, slide, page, dissolve, stretch, PIP, 3D and swap, and it has more than 200 built-in transition 2D or 3D effects. Users can use the effect editor to create new transition effect or edit the built-in transition effect.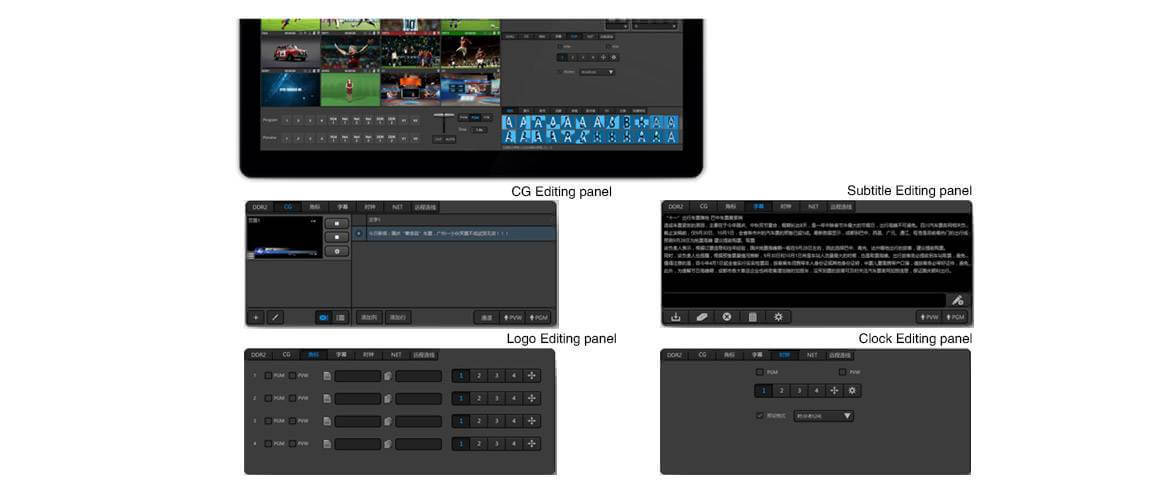 Subtitle/Logo/Clock/CG
Supports CG subtitle, embedded and external CG editor. Each CG page includes subtitles, text, image, image sequence, timer, clock and channel. It supports CG publishing to channel, PGM and PVW.
Supports simple text subtitle, fast type or import from text files. Instant publishing support one key to a record.
It supports 4 logo overlay, supports Alpha channel and dynamic logo. Logo position can be adjusted.
Support clock display, font, size and position can be adjusted.
External CG image and text editor, powerful CG customization feature as shown.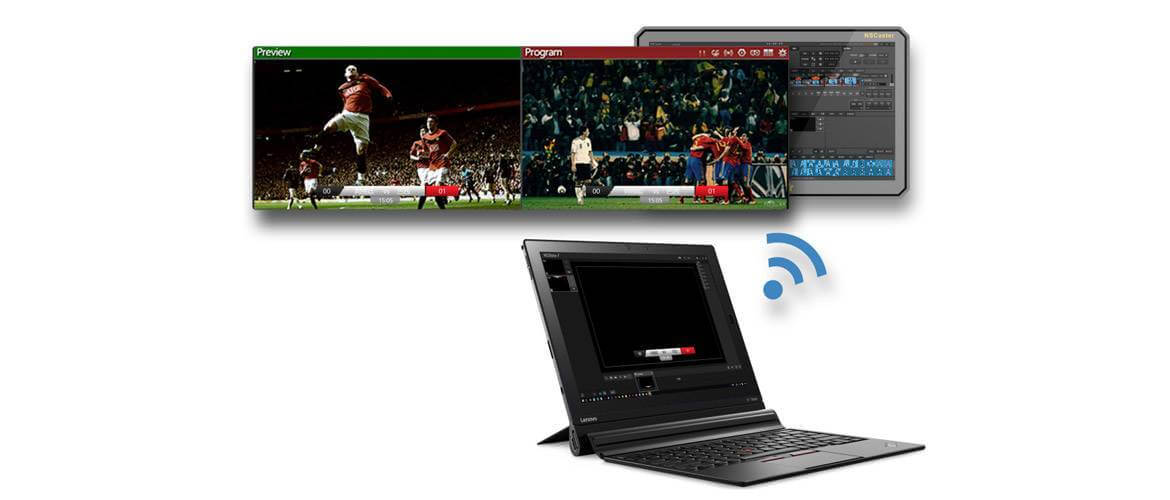 Remote CG Publishing
NSCaster supports remote publish CG for overlay by IP network. So the subtitles operators can use another computer to publish subtitles into NSCaster. It supports text, image, image sequence,timer, clock. It supports CG overlay without layer limitation, CG position and size can be adjusted.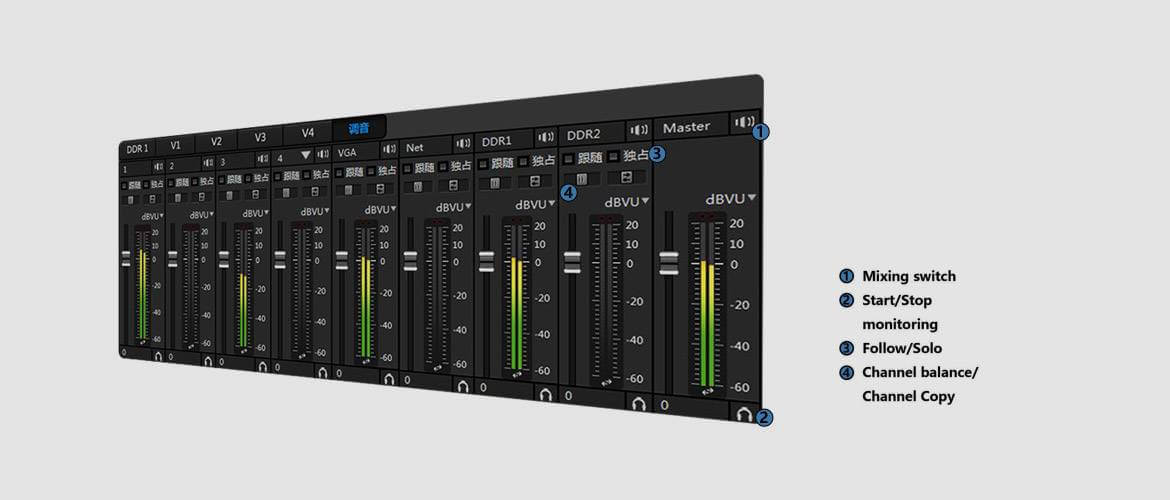 Professional Audio Mixer
NSCaster has a built-in professional audio mixer, which supports VU monitoring and gain control per channel, supports dBVU/dBu/dBFS VU standard, and each channel can operate independently.
The built-in audio mixer support mixing switch, follow, solo, audio channel balance and, channel copy feature and audio monitoring feature. It supports left and right channel balance settings, allows mono turning into stereo.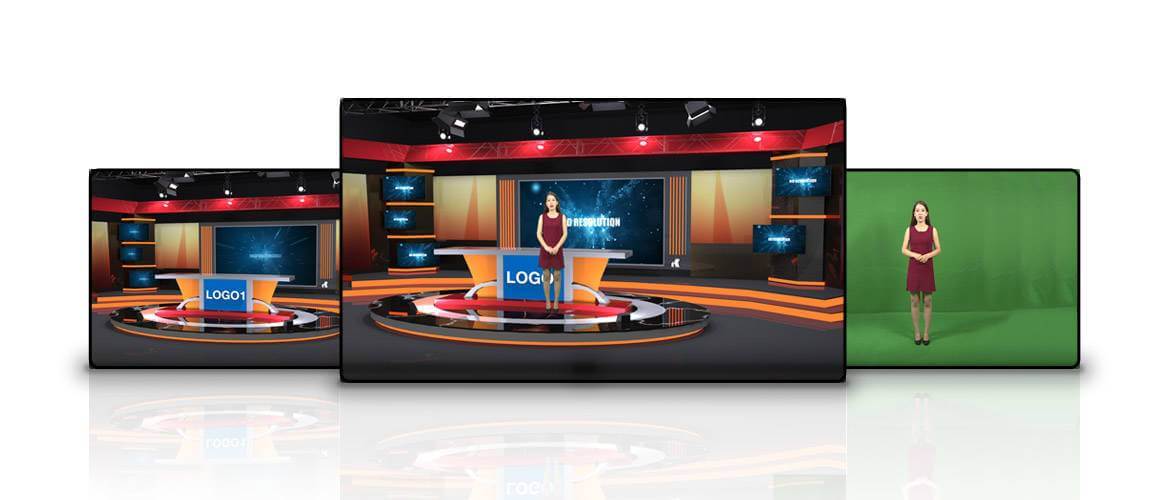 Real-time GPU Chromakey
NSCaster all inputs support real-time chroma key with GPU Accelerated. It supports full color background keying, not only green and blue background. It has lots of setting parameters including key color, brightness, shadows, blur, edge, overflow control, borders, and exclude.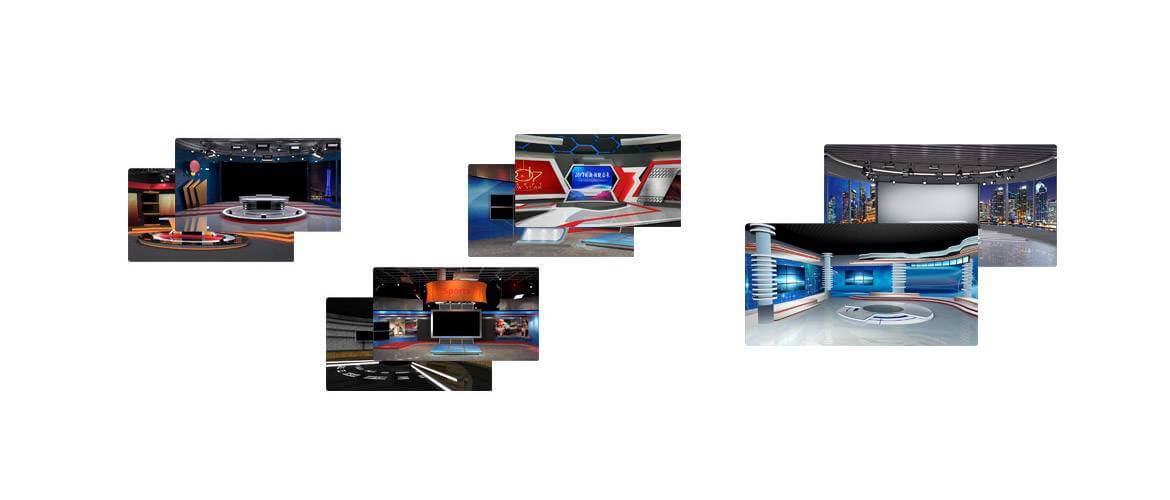 Professional Virtual Scene
NSCaster 351 has many built-in professional 2D and 3D virtual scenes, covering news, finance, education, military, interviews, entertainment, sports and other applications.
Nagasoft will continue to develop new virtual scene and provide for update. And users can use the virtual scene editor to create new virtual scene or edit the built-in virtual scene.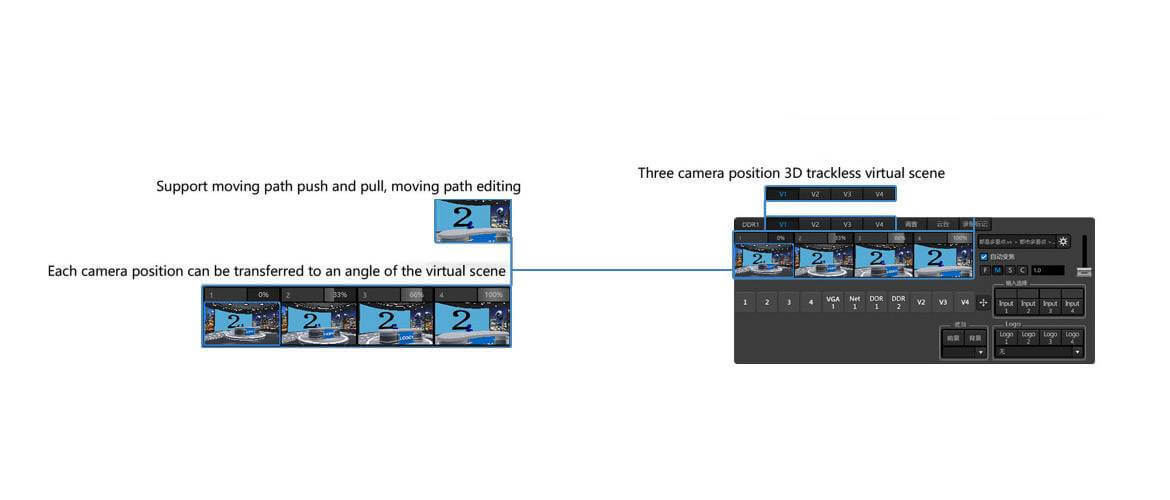 Multi-Camera 3D Trackless Virtual Scene
NSCaster 351 uses a three-dimensional virtual scene, including two camera positions three dimensional trackless virtual and each camera position can be transferred to an angle of the three dimensional virtual scene. The virtual camera can simulate camera movement, push and pull, without moving physical camera by editing virtual camera moving path.
It supports 2 channels 3D virtual scene inputs, Each virtual scene channel can select a virtual 3D scene and a virtual camera and each virtual 3D scene allows to set up multiple virtual cameras through the editor. It supports for 3D virtual camera paths push and pull, and the paths can be edited.
Each virtual camera has 4 preset point of paths, can track the transition and adjust he transition time. The scene can support maximum 4 inputs, each input can be independently linked to other input channels arrange the input on the TV wall or any virtual object surface with adjustable position and size.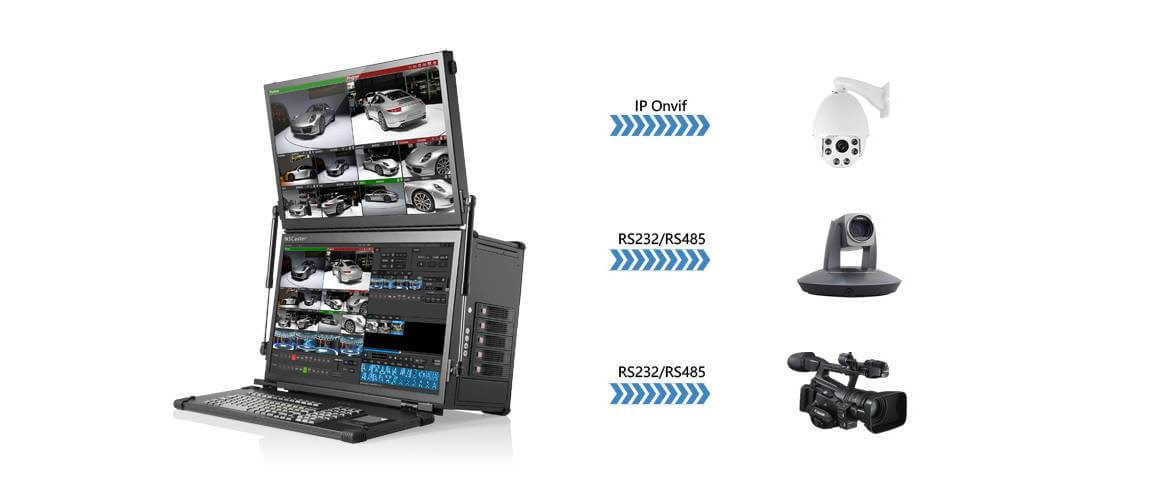 PTZ Camera Control
It supports the operation of PTZ camera, zoom, focus and aperture, upper and lower, left and right, upper left, lower left, upper right and lower right movement of PTZ camera, allows mouse drag to any targeted location with fast positioning. It supports PELCO-D/PELCO-P/VISCA protocol, 255 preset site calls and settings. It has the features of RS485/RS232 PTZ camera control and IP camera Onvif PTZ control. PTZ operations can support virtual camera control in the virtual scene.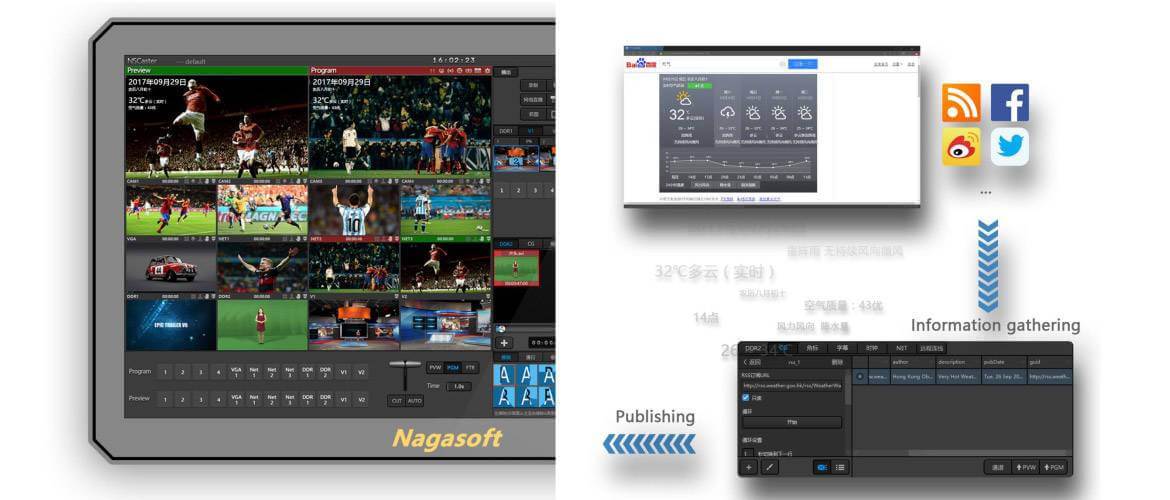 Social Media Support
It has text grab feature and you can add image content from RSS, Sina micro-blog, Facebook, Twitter and other social media and further publish to the PGM channel by CG.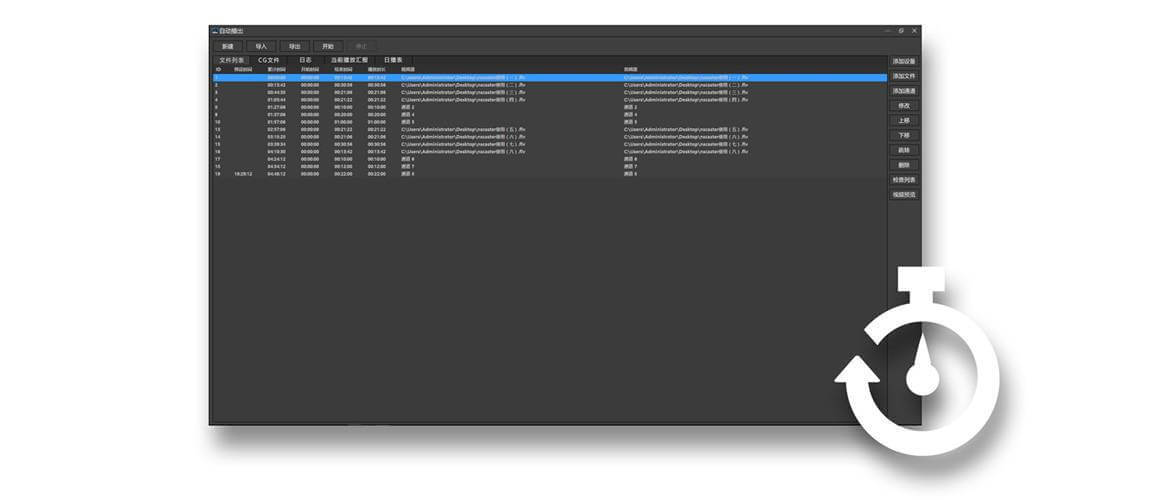 AutoBroadcast System
Built in 7x24 hour automatic broadcasting system allows you to edit broadcast list based on the timeline and broadcast according to it automatically. The broadcast list can add video and audio files, data acquisition devices and channels. It has switching effects, point to point set, automatic switch, automatic subtitles publishing, preview video and audio files and other features.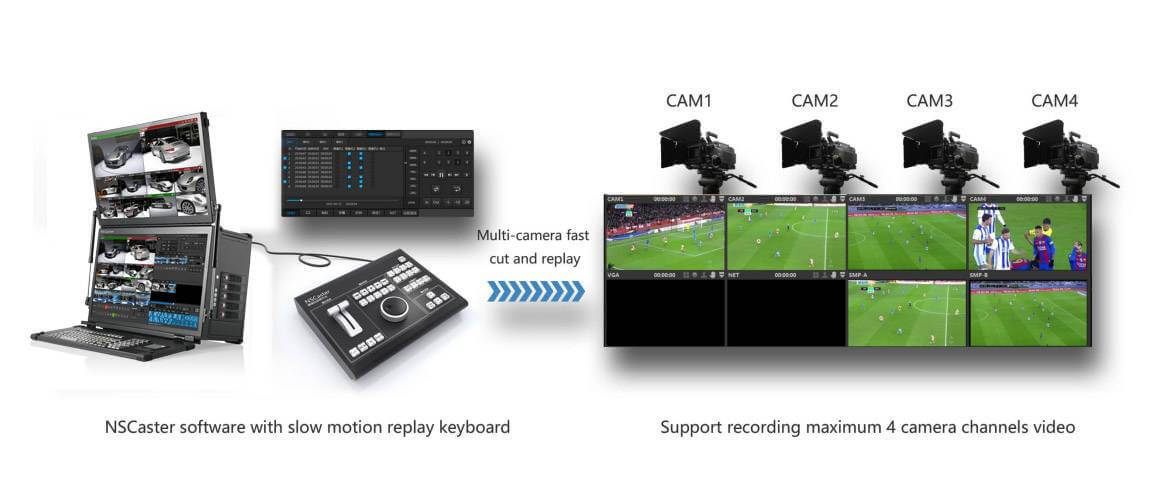 Slow Motion Replay
It supports slow motion, forward, reverse, slow and fast replay. It has forward and backward frame level control. It can support four playback channels in real time simultaneously. The replay speed can go up to 4 times faster and 8 times slower. There is every button to quickly create playback events, play and set point to point playback events manually. It enables multi-camera continuous play and playback events can be sorted as list. You can also set auto-play based on multi-channel playback events list. It facilitates replay with cut in and cut out effects. Replay contents can further be saved and opened synchronously. Moreover, it also works well with with external professional slow motion reply keyboard support.