Video and Streaming Input and Output
NSCaster X2 can utilize 8-channels for live production, can access up to 4 channels of HDMI / SDI 4K video signals, as well as many mainstream IP formats, and live + mobile device connection (like remote camera). Through various switching styles, the NSCaster X2 can realize professional multi camera/source program production.
Simultaneously, the device is equipped with one channel of PGM output (up to 4KP60) and one channel of HDMI output.
(Streaming Protocol Support NDI|HX/SRT/RTMP/RTSP/UDP TS/HTTP M3U8/HTTP TS/HTTP FLV)

Professional Audio Input and Output
NSCaster X2 adopts XLR/TRS combo ports, and supports balanced and un-balanced at the same time. Both XLR and TRS can be used, which is convenient for connecting various external mixer equipment.

Efficient and Intuitive User Interface
NSCaster X2 has a simple UI design enhancing accessibility and usability.
The newly designed UI enables users to proficiently put NSCaster X2 to use with minimal product knowledge training. Logical and functional zoning with clear buttons and icons, not only makes the interface more concise and appealing, but also offers a clearer visual overview of all functions and its status.
The 13.3-inch Full HD touch screen greatly improves the operation efficiency, meets the needs of beginners and professionals, to get up and running quickly, with a gentle learning curve.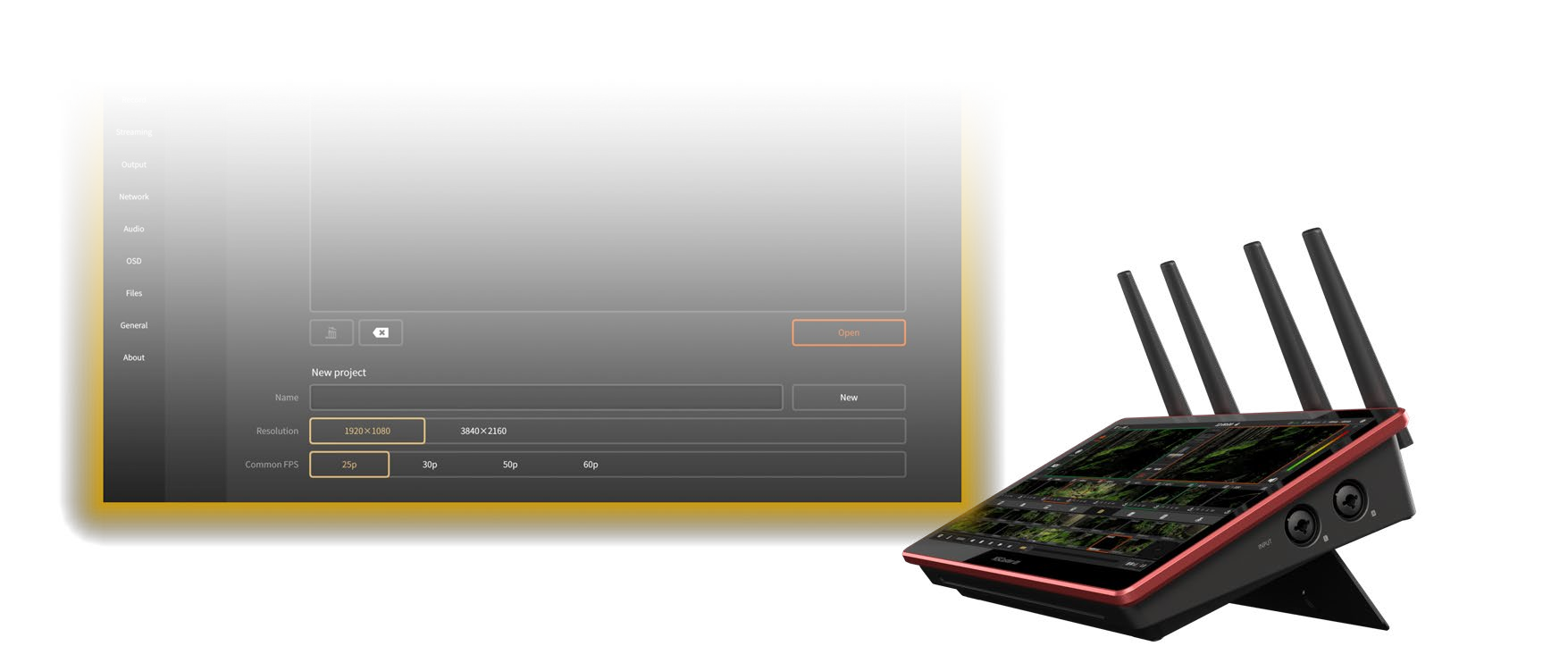 4K Support
NSCaster X2 can create 4K standard projects and supports up to 4KP60 standard input and output. With the powerful program composition functions of X2, users will be able to create more appealing live programs.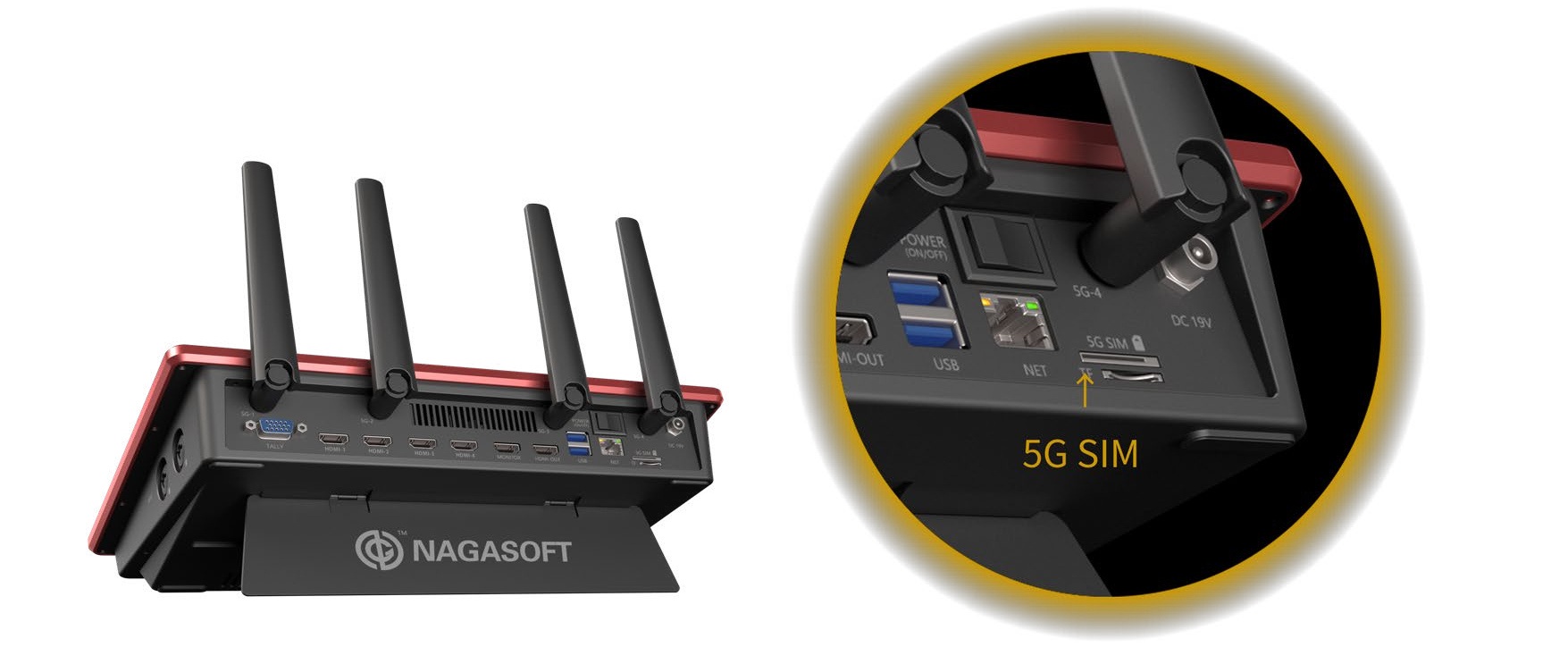 5G Network Support
NSCaster X2 has a built-in 5G SIM card slot, supports 5G NSA / SA, and is downward compatible with most 4G network communication systems. Mobile networks can be used for live streaming where no wired broadband is available, such as outdoor or temporary venues.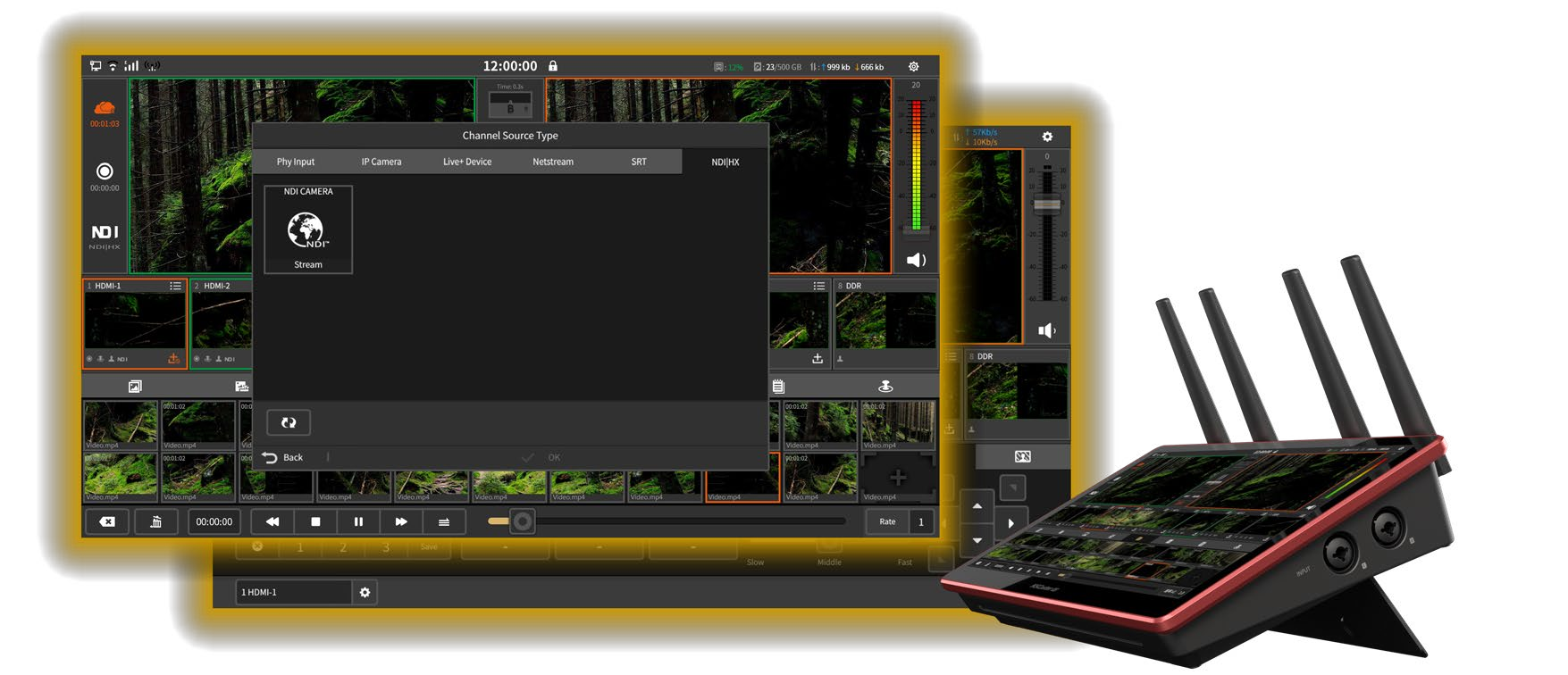 NDI | HX (optional)
NSCaster X2 supports the NDI | HX protocol commonly used in current program production. After activation, it can be used to build very efficient IP video workflows. In addition to audio and video, TALLY and PTZ camera control protocols are supported with the NDI | HX protocol.

Real-time Chroma Key
NSCaster X2 supports a real-time channel Chroma-key function. It utilizes efficient real-time Chroma-key GPU acceleration, for blue screen or green screen with one key, supporting dynamic parameter adjustment, such as threshold and blur. It also offers background placement mode for files or a channel signal.

Picture-in-Picture Templates
NSCaster X2 series supports the simultaneous display of the main visual and multiple sub screens on the same PGM screen. A variety of different picture segmentation layouts and the support for custom picture size and layout is provided. Users can quickly switch the main channel and sub channels, saving post-production time. This is an ideal choice for training, meetings, online programs and other production applications.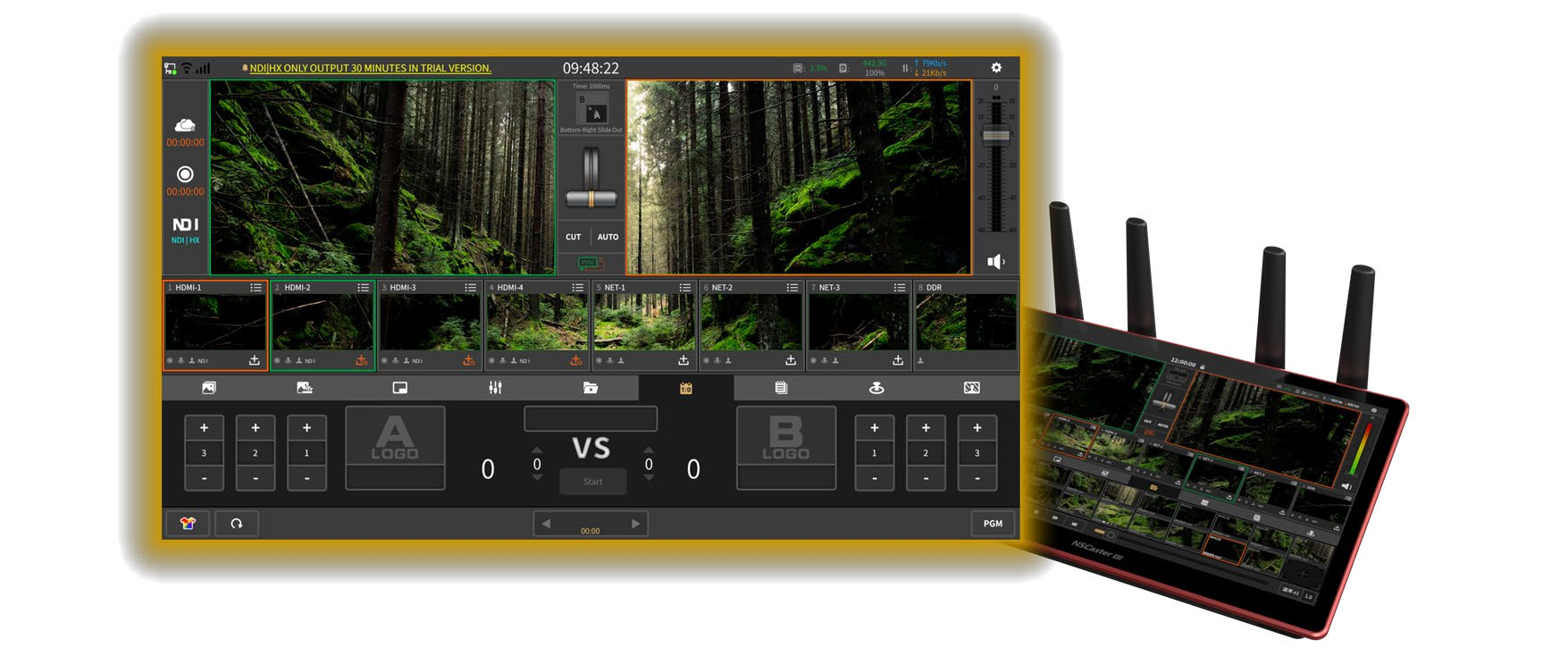 Live Sports Scoreboard
NSCaster X2 series has built-in live sports scoreboard function and a variety of templates to choose from, which can display the score of the live game in real time.
Scoring rules templates for basketball, football, table tennis, badminton, volleyball and other sports events are available. The templates render the live sports coverage more professionally, enable easier program creation, and offer a more enjoyable viewing experience.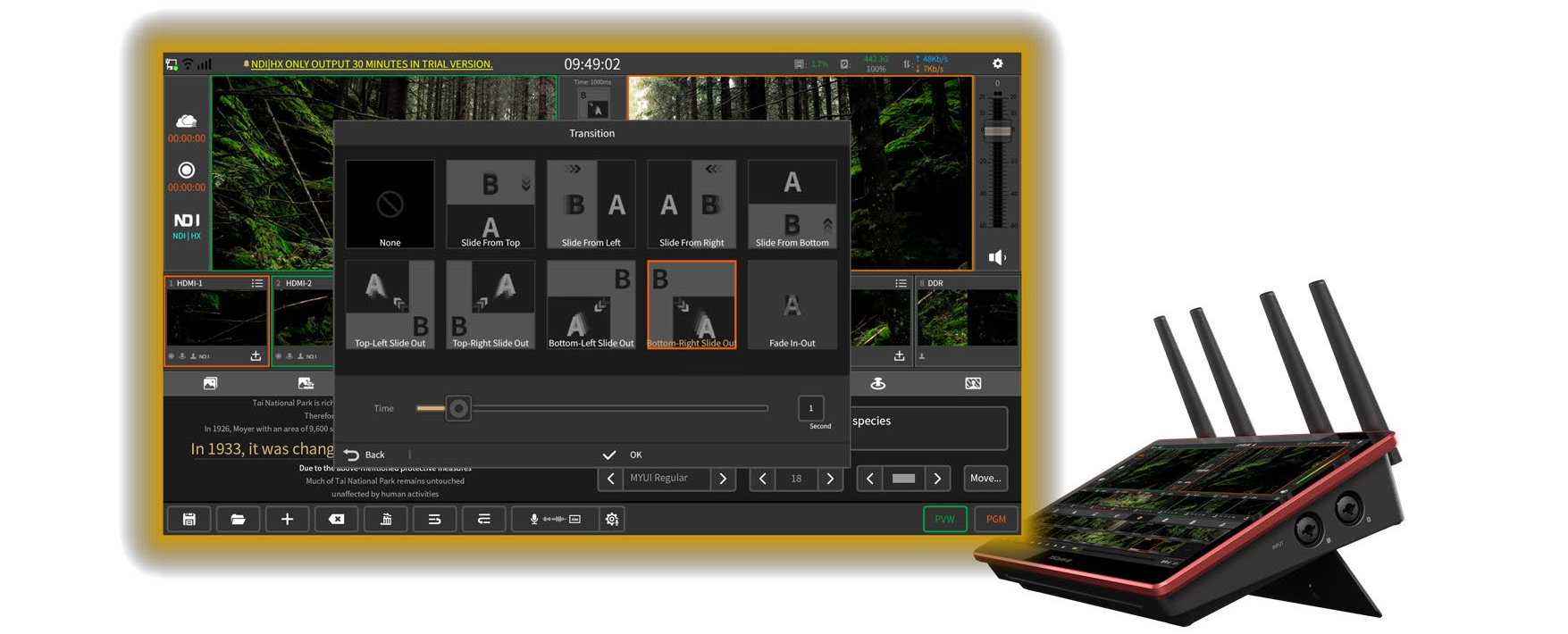 Transition Effects
NSCaster X2 can utilize a variety of transition effects for channel switching, with a simple setting of the transition time.

CG Overlay
NSCaster X2 's CG panel can publish pictures to the PGM channel. It has a built-in large number of pictures but also supports importing external PNG/JPG image formats. Adjusting the position and changing the size of the pictures with up to 20 positions is supported. It is possible to publish imagery on the X2 or remotely with the CG editor software on a PC, making your program production more appealing and comprehensive.

Live+ Connection
NSCaster X2 is equipped with the live + interconnection system. Through the Naga NDDIP protocol, front-end devices such as smart phones and encoders do not need wired connections. Only scan the provided QR code from the X2 device, or input the 6-digit director code to immediately realize a video and audio interconnection between the front-end device and the X2 system and join the live streaming program, making the production of live programs simpler and faster.

PTZ Camera Control
NSCaster X2 has a built-in PTZ control interface and supports a variety of mainstream PTZ control protocols (visca over IP, onvif, NDI|HX). It can remotely control the camera PTZ, supports zoom, focus and aperture control, supports up, down, left, right, top left, bottom left, top right and bottom right PTZ movement, supports PTZ movement by knob, and quickly locating the target position.

Project based setup
NSCaster X2 can setup the project, establish the project name, resolution and bit rate. Complete the program production in projects.